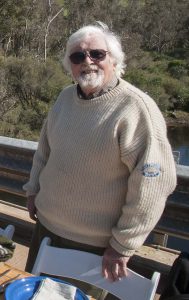 Sired by Irish parents, raised in England and now long-time resident in Australia, Dennis Lingane has spent more than 50 years in the media, most of it in Australia.
Starting with the Ickenham-based Weekly Post Newspapers in 1957, he moved to London at the beginning of the Swinging Sixties, working on Boyfriend magazine where he became embroiled in the rock and roll scene.
Departing UK in 1963, he landed in Australia where he met and eventually married his wife Lesleyann.
Jobs in the three years Down Under ranged from working underground in the gold mines in Kalgoorlie to the Melbourne Herald & Weekly Times.
Returning to the UK in 1965, he worked initially as a freelance in Fleet Street but with a baby on the way moved to Windsor where he worked for several years on the Slough, Windsor & Eton Express.
Boomeranging back to Australia in 1971, he joined the Sunday Independent as a news reporter, eventually rising to chief of reporting staff.
He established a successful consumer technology column while employed by Sunday Independent. It became so popular he resigned his position to work freelance in this field and was eventually contracted by News Ltd, to write syndicated columns for the groups newspapers Australia-wide, including for the prestigious Weekend Australian. He was also a columnist for a number of specialist technical magazines and was the Japan correspondent for two US-based magazines and also had the dubious role of technology writer for Playboy Magazine.
After 12 years, the novelty of living out of a suitcase, calling hotels home and travelling 200,000 miles a year on round-the-world assignments covering conventions in Chicago, Tokyo, Berlin and everywhere in between, wore thin. He resigned to return to a normal existence with the Western Mail as a feature writer. On its demise he transferred to The West Australian daily paper, taking on the role of technology editor.
This normal work situation enabled him to find time to pursue his passion for driving and restoring vintage cars.
During 10 years with The West Australian he worked in a number of roles including motoring editor, beer and pub columnist, lifestyle columnist and Habitat editor.
He returned to freelance writing for various national magazines and the  Perth Sunday Times.
On formally retiring in 2007 he moved to France with his Francophile Australian-born wife Lesleyann.
The Global Financial Crash damaged their retirement nest egg, and drove them back to Australia after only 15 months to settle on their 12-acre country property 300km south of Perth.
Dennis returned to freelance work for another six years but now in retirement battles to landscape his 12 acres, and focuses on producing books.
He is married to journalist Lesleyann and they have a son, Mark, who works freelance in the oil and gas industry but in his free time manages to produce novels and play in various rock and roll bands.
He in turn has given them a delightful grandson Sebastian.